Fifteen pilot whales died today after being stranded on a beach in New Zealand, and more were still at risk.
The dead whales were found beached in two areas of Farewell Spit, a strip of sand on the country's South Island.
Rescuers managed to refloat another 15 of the mammals and are monitoring their progress toward safer waters.
The 15 dead whales ranged in size from small calves to six metres (20 feet) long, according to Conservation Department (DOC) ranger Nigel Mountfort.
He said the remaining 15 whales were not yet out of danger because they remained in a tidal area where they risked beaching themselves again.
A conservation worker has been sent on a plane to monitor the bay for whales at risk of further stranding, he said.
DOC spokeswoman Trish Grant said: "It's still happening, we don't know what the outcome is going to be at this stage and there is still definitely a concern they will strand.
"It all depends on which way the whales start to move."
It was also coming up to low tide, which was a high risk time, she said.
Scientists are unable to explain why whales strand, but some believe it is caused by disorientation in their sonar sounding systems.
New Zealand has several mass strandings around its coastline each summer, with Conservation Department records showing more than 5,000 whale and dolphin strandings since 1840.
In January 2006, 178 pilot whales were stranded in the Farewell Spit area, a broad expanse of sandy bar at the north-west tip of the Golden Bay region, about 100 kilometres (60 miles) from the city of Nelson. Twenty-nine died.
—————————————————————————————————————————————————————————–
Mass die-offs and the ongoing extinction crisis – MarineBio Blog 
Inspiring conservation, education, research, and a sea ethic. Home » Announcements » Mass die-offs and the ongoing extinction crisis. I thought I'd share the latest post by David Suzuki and Faisal Moola at the David Suzuki Foundation concerning the recent news about birds dropping dead from.
www.marinebio.org/blog/?p=1660
——————————————————————————————————————————
Mass die-offs are common
By SETH BORENSTEIN
January 7, 2011, 9:30pm
 WASHINGTON, DC, United States (AP) – First, the blackbirds fell out of the sky on New Year's Eve in Arkansas. In recent days, wildlife have mysteriously died in big numbers: 2 million fish in the Chesapeake Bay, 150 tons of red tilapia in Vietnam, 40,000 crabs in Britain and other places across the world. Blogs connected the deadly dots, joking about the "aflockalypse" while others saw real signs of something sinister, either biblical or environmental.
The reality, say biologists, is that these mass die-offs happen all the time and usually are unrelated.
Federal records show they happen on average every other day somewhere in North America. Usually, we don't notice them and don't try to link them to each other.
"They generally fly under the radar," said ornithologist John Wiens, chief scientist at the California research institution PRBO Conservation Science.
Since the 1970s, the US Geological Survey's National Wildlife Health Center in Wisconsin has tracked mass deaths among birds, fish, and other critters, said wildlife disease specialist LeAnn White. At times the sky and the streams just turn deadly. Sometimes it's disease, sometimes pollution. Other times it's just a mystery.
In the past eight months, the USGS has logged 95 mass wildlife die-offs in North America and that's probably a dramatic undercount, White said. The list includes 900 some turkey vultures that seemed to drown and starve in the Florida Keys, 4,300 ducks killed by parasites in Minnesota, 1,500 salamanders done in by a virus in Idaho, 2,000 bats that died of rabies in Texas, and the still mysterious death of 2,750 sea birds in California.
On average, 163 such events are reported to the federal government each year, according to USGS records. And there have been much larger die-offs than the 3,000 blackbirds in Arkansas. Twice in the summer of 1996, more than 100,000 ducks died of botulism in Canada.
"Depending on the species, these things don't even get reported," White said.
Weather — cold and wet weather like in Arkansas New Year's Eve when the birds fell out of the sky — is often associated with mass bird deaths, ornithologists say.
————————————————————————————————————————————–
Prison Planet.com » Is Mass Bird and Fish Die Off Connected … 
1977 Senate Hearing found that U.S. government had infected hundreds of cities with biological agents. Paul Joseph Watson & Alex Jones Prison Planet.com
www.prisonplanet.com/ is-mass-bird-and-fish-die-off-connected-to-government-testing.html
——————————————————————————————————————————————————————
Amid Mass Die-Offs, Pockets of Brown Bats Survive – Bats … 
White nose syndrome has killed millions of bats over the past five years, decimating the little brown bat population by more than 90% in some areas, but …
www.newser.com/ story/ 135953/ amid-mass-die-offs-pockets-of-brown-bats-survive.html
By 
Evann Gastaldo
,  Newser Staff
Nancy Heaslip of the Department of Environmental Conservation, inserts a radio transmitter into a little brown bat in an abandoned mine in Rosendale, NY, Tuesday, Jan. 27, 2009.   (AP Photo/Mike Groll)
(NEWSER) – White nose syndrome has killed millions of bats over the past five years, decimating the little brown bat population by more than 90% in some areas, but scientists have found reason to hope: In Vermont and Pennsylvania, there are surviving colonies of the threatened species. "I'm cautiously hopeful that eventually these animals can be recovered," says one conservationist. But the crisis isn't over yet: Though "bats haven't entirely fallen off the cliff yet," they're hanging on by just "a tiny little fingernail," she says.
The colonies found in about a dozen sites in Vermont appear to be made up of bats who are resistant to the disease, which is caused by a fungus, but a biologist for the state's Fish and Wildlife Department says they need to be evaluated further to see if they've been exposed. "It's just a ray of hope that there are bats that have survived over three years of white nose syndrome, and we want to know how they survived, or if they will continue to survive, and if this is enough bats to … recover a population," he adds. Several other species have been affected by the disease as well, theWashington Post notes.
———————————————————————————————————————————————————————-
Posted Dec 22, 2011 12:15 PM CST
—————————————————————————————————————————————————————–
Kazakhstan Saiga Antelope Mass Die-Off Occurs For Third Year In A Row
Scientific American  |  Posted: 06/01/2012 3:03 pm Updated: 06/01/2012 3:20 pm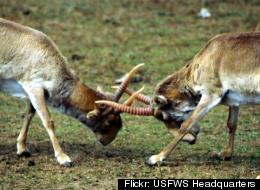 By John R. Platt
(Click here for original article)
This is getting a bit weird. In May 2010 at least 12,000 critically endangered saiga antelopes (Saiga tatarica) were found dead in Kazakhstan. Exactly one year later a second mass die-off occurred, killing 450 of the rare animals. Now, once again almost exactly a year later, yet another round of deaths has struck Kazakhstan's saiga population. Nearly 1,000 dead antelopes have been found over the past two weeks.
The previous deaths were blamed on pasteurellosis, an infection that afflicts the lungs. Healthy animals aren't usually affected by the bacterium that causes this disease but it can prove fatal in creatures whose immune systems have been compromised. This week Kazakhstan's Ministry of Agriculture blamed the most recent spate of deaths on pasteurellosis, although they provided no details.
But some ecologists in Kazakhstan and Russia are instead blaming the fatalities on the April landing of a Soyuz capsule from the International Space Station. At least 120 dead saigas were found near the village of Sorsha, where the Soyuz landed last month. Others see a possible link to the Baikonur Cosmodrome launch site in central Kazakhstan. "It could be from chemical elements left from space rockets that fly over this place," ecologist Musagali Duambekov, leader of the For a Green Planet political movement, told Radio Free Europe/Radio Liberty (RFE/RL). He also suggested the "extensive use of fertilizers" in the region could be harming the antelopes' immune systems.
Others suggest a more natural cause. Eleanor Milner-Gulland, chair of the Saiga Conservation Alliance, told RFE/RL the animals may have consumed too much wet or "rich" vegetation tainted by bacteria during the breeding season. Most of the dead saigas were females who had just given birth, which may have left them in a weakened state and unable to feed their young, which also died.
Once numbering in the millions, saigas were extensively poached after the fall of the Soviet Union. Today just 85,000 or so animals remain in five isolated populations in Russia, Kazakhstan, Uzbekistan and Mongolia. Other than these mysterious die-offs, the main threats to saigas remain poaching for their meat and traditional Asian medicine, in which the animals' translucent horns are used to "cure" headaches, fevers, sore throats and other ailments.
About the Author: Twice a week, John Platt shines a light on endangered species from all over the globe, exploring not just why they are dying out but also what's being done to rescue them from oblivion. Follow on Twitter @johnrplatt.
The views expressed are those of the author and are not necessarily those of Scientific American.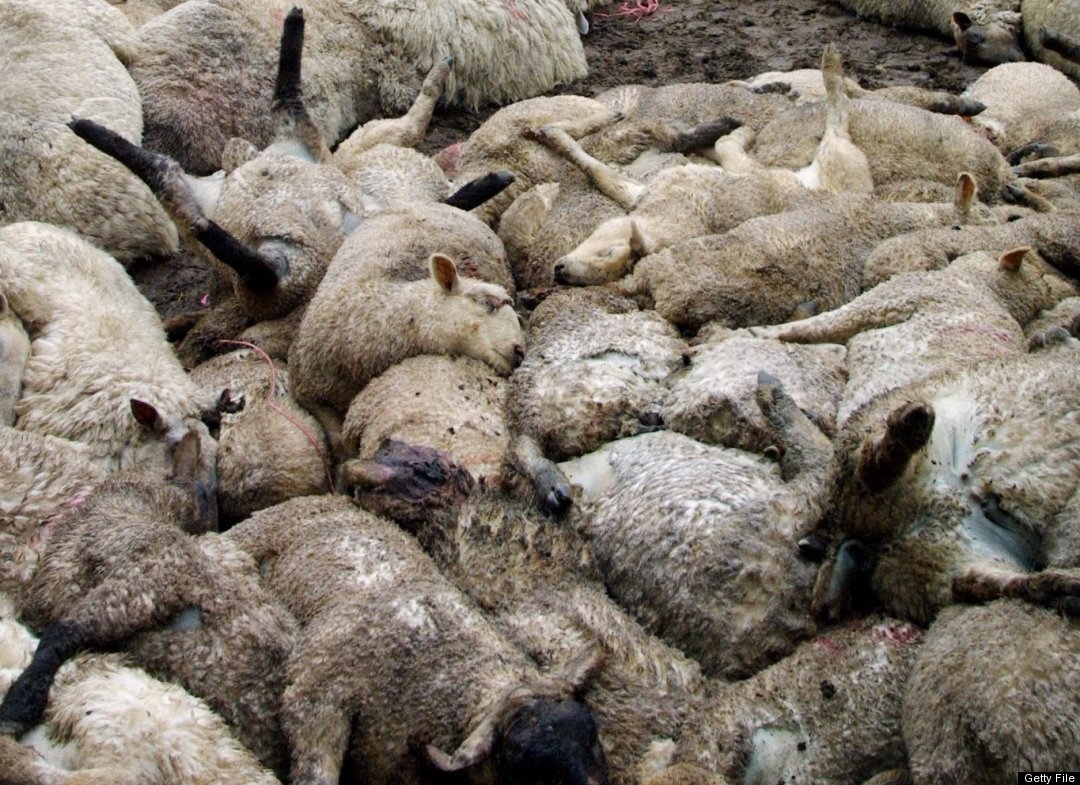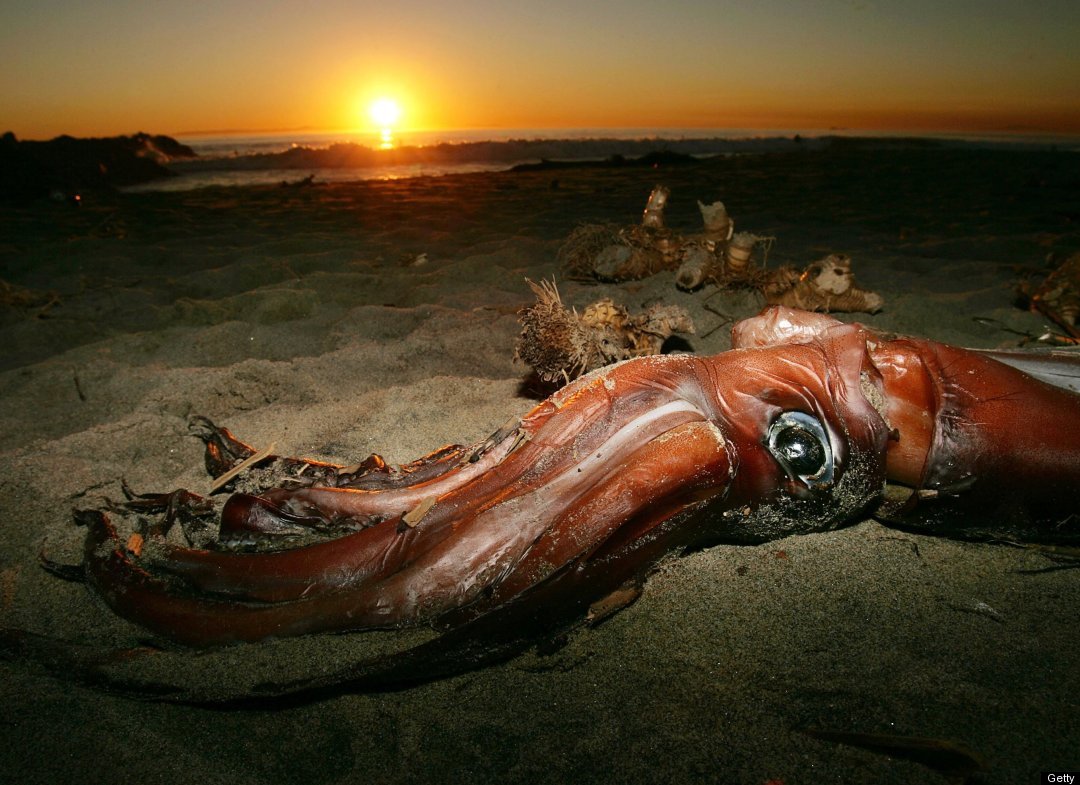 Mass Die Offs 
LIMA, Peru — Peru's oceanographic agency says it will investigate the deaths of hundreds of pelicans on northern beaches where nearly 900 dolphins were recently found dead.
Puerto Eten fisherman's association president Fernando Niquen says his group found about 1,200 dead pelicans Thursday and Friday along a 105-mile (170-kilometer) stretch of coastline.
The government's Institute of the Sea says it found nearly 600 dead birds, mostly pelicans but also gannets, along a 43-mile (70-kilometer) stretch.
Its regional chief, Edward Barriga, recalled a mass die-off of pelicans and cormorants in the same area in 1997 due to the absence of anchovies blamed on the El Nino meteorological phenomenon.
Coast Guard official Cesar Villanueva in Lambayeque said Sunday he has never seen so many dying pelicans on the beach in 25 years on the job.
—————————————————————————————————————————-
Scientists See Suspect in Mass Deaths of Bees
Published: September 6, 2007
Scientists sifting genetic material from thriving and ailing bee colonies say a virus appears to be a prime suspect — but is unlikely to be the only culprit — in the mass die-offs of honeybees reported last fall and winter.
The honeybee die-offs, in which adult bees typically vanished without returning to hives, were reported by about a fourth of the nation's commercial beekeepers. The losses captured public attention as rumors swirled about causes ranging from climate change to cellphone signals to genetically modified crops.
Now, one bee disease, called Israeli acute paralysis virus, seems strongly associated with the beekeeping operations that experienced big losses, a large research group has concluded, although members of the team stressed that they had not proved the virus caused the die-offs.
"I hope no one goes away with the idea that we've actually solved the problem," said Jeffrey S. Pettis, an entomologist with the Department of Agriculture and co-director of a national group working on the puzzle, which has been given the name colony collapse disorder.
The project involved an unusual partnership between entomologists and scientists working at the leading edge of human genetic research. It employed the same technology being used to decode Neanderthal DNA and the personal genome of James Watson, the co-discoverer of DNA.
The research was described in Science Express, the online edition of the journal Science. Details are available at eurekalert.org/bees.
Even with the caveats, the possible identification of a virus involved in large bee die-offs "is exceptionally important," said May Berenbaum, who heads the entomology department at the University of Illinois, Urbana-Champaign, and was not involved in the study. "Among other things, figuring out where this one came from will help us prevent future problems."
Dr. Berenbaum, who led a 2006 National Academies study of problems with bees and other pollinators, said that finding ways to swiftly home in on novel diseases is ever more important in a globally linked economy. She noted that the first reports of the latest bee die-offs in the United States came in 2004, the same year the country allowed the first imports of honeybees from another country — in this case Australia — since 1922.
The new study found evidence of the virus in some Australian bee samples, although that country has not reported die-offs like those seen in the United States.
"Globalization clearly has had impacts on emerging and re-emerging infectious diseases of humans," said Dr. Berenbaum. "Should bees be any different?
Dr. Pettis said that even if the virus is involved, it is likely that more than one factor has to align for a hive to collapse, with another possible influence being poor nutrition. Most of the colonies that had big losses over last winter were in areas that experienced drought a few months beforehand, and thus a lack of nectar in flowers, he said.
Another factor, he said, could be the stress that comes from the increasingly industrial-style beekeeping operations in the United States, in which truckloads of hives crisscross the country to pollinate California almonds or Florida orchards each season.
But the virus stands out as a top suspect. While seven viruses and a host of bacteria and parasites were identified in the genetic screening, only the Israeli bee virus, first identified in 2004, was strongly tied to the samples taken from keepers who reported the collapse disorder.
While it was first identified by scientists in Israel, the virus appears to exist in many parts of the world, said W. Ian Lipkin, one of the authors of the new study and director of the Center for Infection and Immunology of Columbia University. When the group screened some samples of Chinese imports of a bee product called royal jelly, they found evidence of the virus, as well.
In Israel, it also seems to produce bee symptoms not reported in the United States, including shivering and a pattern of finding dead bees near hives.
Dr. Lipkin, whose focus is human disease, became involved because the quest for a cause for the beehive collapses employed new genetic sifting techniques that he said might also prove useful in investigating human disease outbreaks.
One hint of the involvement of an infectious agent, he said, was the recent finding that abandoned hives sterilized with radiation could be repopulated with healthy bees. "That's how they convinced me to do this research," he said.
The study initially examined bees from four beekeepers who reported die-offs, as well as healthy bees from Hawaii and Pennsylvania. Genetic material was extracted and analyzed with a machine from 454 Life Sciences, a company immersed in the race to make gene-sequencing a fast, cheap technology.
Statistical analysis showed that a colony with the Israeli virus was 65 times more likely to have had the collapse disorder than one without it.
To try to clarify cause and effect, the researchers said they are preparing a new suite of tests in which isolated bee colonies are infected intentionally with the virus, both with and without possible secondary causes like certain parasites.
Dr. Lipkin acknowledged that the definition of colony collapse disorder itself was "a soft one, made by people who define the syndrome, somewhat like chronic fatigue syndrome in people."
Still, he said, even with that human ailment, there is emerging science pointing to something being wrong biologically. In both ailing humans and bees, he said, it is plausible that a mix of infection, genetics, and environmental influences is at work.
——————————————————————————————————–
January 21, 2011 at 8:54 pm (Climate Change, environmental, mass die-offs,medicine, political, Science, Uncategorized)
So I have stumbled upon another piece of the puzzle of late.  It started with the discovery of a EPA document that was leaked by wikileaks, clearly stating that the EPA approved the use of a neonicotinoid pesticide called Clothianidin, they knew was toxic to not only bees, but birds and aquatic life as well.  This pesticide is produced by Bayer and Valent, who maintain it is safe in spite of the obvious flaws of their study "proving" this erroneous claim.  Among other things it is listed as a possible carcinogen to humans.  It is not very often that I feel rage, but I do at this.  You who have allowed this, including the newsmedia which are as corrupt as they are impotent, as they know damn well about this but agree to cover it up, the lily-livered bureaucrat at the EPA who allowed this, and the fascist scientists at Bayer, deserve nothing less than a nice steaming cup of Clothianidin to drink.
This pesticide is widely used in corn, canola and soybean crops.  Local uses of clothianidin are, as recommended by the University of Wisconsin Extension, for rootworm in corn, bean leaf beetle (under the name Belay), soybean aphid (again Belay), stinkbugs(belay), listed as fungicide ipconozole/metalaxyl for control of Rhizoctonia, Pythium, Phytophthora, and Phomopsis in Soybean crop in addition to control of wireworm, white grub, seedcorn maggot, and again bean leaf beetle.  It also lists a commercial name of Poncho for it's use in seed treatment.  It is also sometimes applied to potatos.
The problems with this family of chemicals first started with release of the first neonicotiniod pesticide Imidacloprid in 1994 under the name Gaucho.   Neonicotinoid pesticides work by disrupting the central nervous system of target pests, resulting in disorientation and death.  However the commn practice is to coat seeds with this pesticide, so as the seed germinates, the pesticide stays in the plant, being released in the pollen.  Bees come along, collect the pollen, bring it back to the hive and it compounds over time, eventually destroying the hive.   After it's introduction into France bee populations rapidly declined, so it was banned.
Clothianidin, was released in 2003, and it is one of the most toxic of the class neonicotinoid.  EPA scientists expressed concern clearly stating it was toxic to both bees and aquatic life, but Bayer was allowed conditional registration for the substance, provided they conducted a study on it's toxic effects by 2004.  The study was not done until 2007, and was fatally flawed as the control group was located only a few hundred yards away from the test group, and it was tested on Canola Crops, not Corn, which is the major producer of pollen that bees would be exposed to.  Indeed bee die-offs seemed to follow corn plantings, and testing on dead bees resulted in 99% of them having clothianidin buildup.  Indeed as Italy banned neonicontinoids, they showed zero bee mortality in areas with none of this toxic substance present.  It is now banned in Germany and Slovenia as well.
The original 2003 document expresses concerns over birds and mammals eating seeds as they forage through fields planting with seeds treated with clothianidin, as even only 1 or 2 corn seeds could result in developmental and reproductive harm.  Also the signs of ingestion of this compound are among other things, labored breathing.  In the town of Stockton near where I live, 200 cattle just suddenly died as a result of acute interstitial pneumonia, a disease characterized by labored breathing where the creature eventually goes into shock and dies.  Corn, is the common feed of cattle.  I have to wonder, what corn where these cattle fed?
Also it is clearly stated in several of these studies that Clothianidin is toxic to aquatic animals as well.  In the last two years there have been 2 major dieoffs of fish in the Big Eau Pleine Resevoir near where I live as well.  One of the major sources of the problem has been cited as ag runoff resulting in choking algae blooms that suck all the oxygen out of the water.  They just installed an aerator, but last month was the second mass die-off.  With the local UW extension office listing this as a pesticide to use for the afore mentioned reasons, is it so far a stretch to say that perhaps what is killing this fish is not necessarily lack of oxygen, but rather asphyxiation occuring due to the presence of Clothianidin in the ag run off in the water?
Put this into the bigger picture and we have a very probably if not likely explaination for the mass fish and bird die-offs since winter set in.  Are these animals all being exposed to Clothianidin treated seed and run-off?  Has anyone done toxicology tests for this chemical?  Indeed beekeepers have stated that the time when bee deaths occur is in winter, when the colonies are under the greatest amount of stress.  Could it be that low level exposure to this chemical is taking it's toll as the harsh cold sets in, testing the limits of these wild creatures strength.  Indeed most of the die-offs are occuring in countries that allow Clothianidin use.  So either these animals are dying from directly consuming laced seed and/or contaiminated water, or they are suffering secondary immune system effects that leave them weakened from exposure to this chemical, and so they die either from cold more easily, or from other disease that normally they would be able to fight off.  As a witness of the bird deaths in California stated, the birds were flying into semis, "like they were committing suicide".  It has already been stated that this chemical affects the central nervous system which would result in disorientation.
Another fallacy that seems quite obvious to me as I read over the associated documents is that somehow, careful containment procedures will keep a chemical contained.  This substance is being put on corn out in the open, in fields that get plenty of rain every year.  So not only can anything in the environment come in there and either ingest treated seed, or carry off laced pollen, but any rain storm will result in the run off of this chemical into local streams, river, reserviors, and ground water, not only contaiminating wildlife, but human drinking water as well.  These people with all their college education could not get that simple ecological principle????
You farmers who use these pesticides and poisons, how could you think it could have any other effect?  It is a poison! It's bad enough you perpetuate the modern industrial ag system which is why you continue to be poor, it's bad enough that you buy genetically modified seed, which has a much greater failure rate as normal seed as it is genetically unstable, whose pollen screws up heirloom/organic crops, costing organic farmers like me dearly, for if they cross pollinate my stuff I have to wait 7 more years till I can be certified organic again.  GMO's which only makes corporate monsters like Cargill and Monsanto richer, so they can go into countries like India, give the poor ignorant farmers over there their genetic abominations so they can bankrupt them and lead to the rise of suicides of rural Indian farmers because these corporations put them so far in debt they never will make it out and they know it.  It is a problem so bad that recently Prince Charles commented on it, another story that was summarily ignored by mainstream media.  It is bad enough you contribute to over 30% of greenhouse gases in the atmosphere by using petroleum based fertilizers, in addition to tractors which belch CO2 out into the atmosphere at ridiculous rates, and that the run-off from the fertilizers you use is resulting a dead zone in the gulf of mexico you can see from space.  And then you'll swalllow the lies of conservative pundits and politicians whose primary sponsors and campaign contributions are from the very corporations that caused this and profit from it.  And you wonder why you are poor?
It would seem obvious to me that one of the major contributors to mass die-offs of not only bees, but fish and birds as well is this highly toxic chemical.  I cannot express my disgust at what I have learned today enough.  Bayer, a corporation having it's roots in Nazi germany, manufactures and lies about a highly toxic chemical, the US government regulatory agency, the EPA, ignores the warnings of it's own scientists, allows this chemical to be used, even when the conditions of it's use were not met, ie a study within a year.  Just like even when the EPA ordered BP to stop spraying Corexit, another banned substance, but BP continued to spray anyway.  The EPA is either massively corrupt, or does not have the regulatory teeth to stop this flagrant flouting of the law.  The tests done to establish the toxicity of clothianidin, were done not only on rats, but on beagles, by Covance of Madison, who deliberately recruits college students from the UW for it's human pharmacuetical trials.  How did they legally get to use beagles???  It does not take a rocket scientist to figure out that a chemical some ex-Nazis created is going to kill stuff.  Really you need to cause this kind of atrocity to figure that out?  How do you people sleep at night???!!   I do not know whether to cry or wretch.
Leaked EPA documenthttp://www.panna.org/sites/default/files/Memo_Nov2010_Clothianidin.pdf
Original 2003 document expressing concerns about clothianidin http://www.grist.org/i/assets/Memo_1.pdf
Study conducted by Covance in Madison showing "labored breathing" in test animals, symptom of acute interstitial pneumonia, what killed the 200 cows in stocktonhttp://www.cdpr.ca.gov/docs/risk/toxsums/pdfs/5792.pdf
Safety information clearly stating this product is lethal if ingested and toxic to both birds and fish http://www.cdms.net/LDat/mp7U8011.pdf
——————————————————————————————————————————————————-
Millions of dead fish found in Maryland, Brazil and other parts of the world
Experts say that mass die-offs are common due to weather, disease or poisonings — or in some cases, fireworks. Mass fish kills have occurred in Brazil and New Zealand. Experts are blaming New Year's Eve fireworks for confusing the Arkansas birds, which died of blunt force trauma after flying into
http://www.mnn.com/earth-matters/wilderness-resources/stories/millions-of-dead-fish-found-in-maryland-brazil-and-other-
Millions of dead fish found in Maryland, Brazil and other parts of the world
2 million fish wash up in the Chesapeake Bay as experts puzzle over massive bird and fish deaths around the globe.
Photo: 
dameetch
/Flickr
One of the biggest mysteries of the first days of 2011 has religious and environmental experts flummoxed. In the past few days, 
fish
 and 
birds
 the world over have been dying in large numbers. 
Experts have speculated
 that fireworks in Arkansas killed 3,000 red-winged blackbirds. Meanwhile, hundreds of dead birds were found in nearby Louisiana.
Mass fish kills
 have occurred in Brazil and New Zealand. 
And as CNN reports
, now 2 million fish have turned up dead on the banks of the Chesapeake Bay.
Authorities determined that cold water stress coupled with a too-large population may have killed the 2 million juvenile spot fish that washed up in Maryland. 
Via CNN,
 theMaryland Department of the Environment said in a press release, "The affected fish are almost exclusively juvenile spot fish, 3 to 6 inches in length. [A recent survey] showed a very strong population of spot in the bay this year. An increased juvenile population and limited deep water habitat would likely compound the effects of cold water stress."
While dead birds have fallen from the skies in Arkansas, dead fish have also washed up in the state's rivers. 
Experts
 are blaming New Year's Eve fireworks for confusing the Arkansas birds, which died of blunt force trauma after flying into the ground. In Baton Rouge, La., some 500 small birds dropped to their deaths. Experts are waiting on toxicology reports on those birds. Meanwhile, in Sweden, 50 jackdaw birds fell from the sky, and authorities are blaming fireworks or possibly the weather.
But as Discovery News
 points out, birds falling from the sky isn't that unusual. Experts say that mass die-offs are common due to weather, disease or poisonings — or in some cases, fireworks. Further, they are more frequent in animals that travel in groups. We may just notice them more in modern times because humans have encroached on so much once wild territory.
Nonetheless, some are pointing to an "end of days" scenario for the massive die-offs. Anderson Cooper recently asked noted born-again Christian Kirk Cameron if a biblical apocalypse was upon us. As the star of the "Left Behind" movies told Cooper, all is well.
According to Cameron
, "People love to find codes and signs of future events and see if they can decipher them before anybody else. But birds falling from the sky? That has to do more with pagan mythology; the direction that the birds flew told some of the followers of some of those legends that the gods were either pleased or displeased with them."
For further reading:
——————————————————————————————————————————————-
Monday, January 3, 2011
Mass Die-Offs of Fish & Fowl: What's Next Arkansas?
No doubt it's unusual to have thousands of birds fall dead from the sky. But what about 80,000 to 100,000 fish suddenly washing ashore?That's what Arkansas residents and wildlife officials are dealing with – two mass deaths of two separate species within a week.So far, the sudden deaths (they literally fell dead from the sky) of the red-winged blackbirds on New Year's Eve and the drum fish are being treated as unrelated incidents, according to
KSPR Channel 33
.Many believe the birds died of stress, maybe from fireworks or lightning. The fish, because the die-off involved a single species, are believed to have contracted some sort of disease.Yikes. No wonder residents such as Denise Dickerson are wondering what's next.Lab results from the birds are expected by the end of this week. But it could take up to a month to learn what afflicted the drum fish.
———————————————————————————————————————————–
GMOs Causing Mass Crop Die Offs, Infertility, and Miscarriages 
The USDA and Secretary of State, Tom Vilsack, ignore warnings and evidence of in-process disaster to crops and animals. What about the implications to human life?
www.gaia-health.com/ articles451/ 000455-gmo-crop-dieoffs-infertility-miscarriages.shtml
GMOs Causing Mass Crop Die Offs, Infertility, and Miscarriages
The USDA and Secretary of State, Tom Vilsack, ignore warnings and evidence of in-process disaster to crops and animals. What about the implications to human life?
by Heidi Stevenson
14 May 2011
Something is causing mass genetically modified crop die-offs. Something is causing mass infertility in farm animals fed GM crops. Something is causing mass miscarriages in farm animals fed GM crops. The connection in all cases is Monsanto's Roundup Ready seeds. The United States Department of Agriculture and USDA were warned that the problem exists and that the likely cause is Monsanto's Roundup pesticide and Roundup Ready crops.
The USDA's response was to completely ignore the warning and approve Roundup Ready alfalfa. Not even the obvious implication that these disastrous effects could extend to humans mattered.
Don Huber's Work on Roundup
Dr. Huber Explains Science Behind New Organism and Threat from Monsanto's Roundup, GMOs to Disease and Infertility
David Murphy of Food Democracy Now interviews Dr. Don Huber, Professor Emeritus of Plant Pathology, Purdue University on discovery of new organism and crop disease, livestock infertility and threats to U.S. food and agriculture.
Support Dr. Huber's call for more science: Take action! action.fooddemocracynow.org/sign/dr_hubers_warning/
In 2009, Dr. Don Huber, Professor Emeritus of Purdue University noted for his expertise in plant pathology, co-produced a paper with G.S. Johal, of Purdue's botany and plant pathology department. Entitled, "Glyphosate effects on diseases of plants"(1), it was published in the European Journal of Agronomy. It has, of course, been routinely ignored by the USDA.
Note that glyphosate is the scientific and generic term for Roundup.
The paper stated:
[The widespread uses of glyphosate] significantly increase the severity of various plant diseases, impair plant defense to pathogens and diseases, and immobilize soil and plant nutrients rendering them unavailable for plant use.
The authors further warned:
[I]gnoring potential non-target detrimental side effects of any chemical, especially used as heavily as glyphosate, may have dire consequences for agriculture such as rendering soils infertile, crops non-productive, and plants less nutritious. To do otherwise might well compromise not only agricultural sustainability, but also the health and well-being of animals and humans.
Coming from someone as distinguished in his field as Don Hubor, one would have thought that a rational regulatory agency would choose to err on the side of caution—at least refuse to authorize use of the product until it has been thoroughly tested. That hasn't been how the USDA operates, as we shall see.
Roundup Ready seeds were created by Monsanto to leverage glyphosate. The GMO plants are resistant to it. Therefore, farmers can spray glyphosate recklessly in huge quantities. The result is, of course, profits from sales of the seeds, along with hugely inflated profits from sales of glyphosate. Monsanto makes money coming and going.
A New Glyphosate-Related Pathogen
Dr. Huber learned of a new pathogen that "appears to significantly impact the health of plants, animals, and probably human beings", as he wrote in a letter to the Secretary of Agriculture, Tom Vilsack(2):
The organism is prolific in plants infected with two pervasive diseases that are driving down yields and farmer income-sudden death syndrome (SDS) in soy, and Goss' wilt in corn…

…Laboratory tests have confirmed the presence of this organism in a wide variety of livestock that have experienced spontaneous abortions and infertility. Preliminary results from ongoing research have also been able to reproduce abortions in a clinical setting.

The pathogen may explain the escalating frequency of infertility and spontaneous abortions over the past few years in US cattle, dairy, swine, and horse operations. These include recent reports of infertility rates in dairy heifers of over 20%, and spontaneous abortions in cattle as high as 45%…

He concluded with:

This pathogen may be instrumental to understanding and solving this problem. It deserves immediate attention with significant resources to avoid a general collapse of our critical agricultural infrastructure.
Huber included photos in the letter to demonstrate the damage done to crops:
This photo shows a field of soybeans. No glyphosate was used on the left-hand side of the field.
The corn field in the background was grown from non-GMO corn seed. The dying field in the foreground suffers from sudden death syndrome. The corn plants were grown from Monsanto's Roundup Ready seeds.
Huber has described the pathogen as exceptionally small, visible only via electron microscope, but indubitably a life-form with the ability to directly reproduce itself, unlike viruses and prions, as you can see in this interview with him—and, incidentally, also determine for yourself whether he appears to be legitimate:
Dr. Huber Explains Science Behind New Organism and Threat from Monsanto's Roundup, GMOs to Disease and Infertility
from 
Food Democracy Now!
 on 
Vimeo
.
The USDA's Response
The response to the letter was particularly disappointing. Huber wanted to assure that it was received, so he had a third party hand-deliver it to the Secretary of Agriculture, Vilsack. The USDA seems to speak out both sides of the mouth regarding it. They have acknowledged receipt of the letter, but have also stated:
It has been confirmed that no letter addressed to Secretary Vilsack from Dr. Huber has been received directly by USDA. The only copy we received was forwarded by a third party, and we do not respond to third-party letters.
Apparently, the USDA got the letter, but didn't get the letter. Of course, they are aware of it—and have utterly ignored it.
Of course, the naysayers have been working hard to imply that there's nothing to worry about, that there is no verification for what Dr. Huber is saying. Of course, if that's true, then why the subterfuge about whether the letter was received? What's the point of that, other than to confuse the issue?
If the USDA truly believes that the statements of Dr. Huber, a man recognized for his expertise on the subject, are worthless, then they should say so.
One and one-half weeks after delivery of the letter, the USDA approved yet another Roundup Ready seed, alfalfa! Since then, they've also approved Roundup Ready beets, in spite of a court ordering them not to. Obviously, the USDA does not believe that it owes anything to either the rule of law or the safety of the people.
Anecdotal Evidence
The naysayers suggest that what Dr. Huber has presented is nothing more than anecdotal evidence. They fail, though, to acknowledge that:
Though the evidence has not yet been presented in a journal, it is the latest in a series of serious documentation about the dangers in both genetically modified crops and glyphosate.
The man making the claims is one of the most honored in his field, not someone whose claims can reasonably be ignored.
The risks exposed are so extreme and far reaching that ignoring them until there is absolute proof is the behavior of a lunatic.
Warning to the World
All this happened earlier this year. Dr. Huber was quite disappointed. Since then, he has taken the issue to the rest of the world. He has sent a letter, complete with documentation and references, to UK and EU leaders.(3) In it, he repeats what he told Vilsack and the USDA, and he included a list of references, notes from farmers, and documentation showing that all possibilities besides glyphosate could be eliminated in specific instances.
How Bad Is It?
The new organism, as yet still unnamed, combines with nutritional deficiencies in Roundup Ready feed. Infertility rates as high as 20% are being seen in cattle and pigs, and spontaneous abortions are occurring at rates of 45% among cattle. This is still early in the Roundup Ready era—and it's clearly unsustainable.
Crop failures are clearly documented by Dr. Huber. There have been widespread reports of GM crop failures in India. Of course it's only anecdotal…There is almost no research on the subject. Monsanto manages to prevent it by refusing to allow their seeds to be used in studies that might demonstrate the truth.
Anecdotal Evidence Brought Agriculture to the World.
It should be noted, though, that scientific studies are conglomerations of anecdotal stories. They have been organized and controlled—but in the end, all information is anecdotal. The fact is that throughout most of history farmers have based their husbandry techniques on anecdotal evidence—and that evidence has brought about a revolution in the lives of humanity.
Through anecdotal evidence combined with ingenuity, humans have improved crops, created virtually new foods, such as corn and most citrus, improved soil quality, and grown crops in places where they couldn't grow naturally.
Anecdotal evidence has led to the existence of our modern world. To now look down upon and ignore it is hubris, pure and simple. When it's already combined with modern scientific research that indicates extreme danger for the future of humanity, it's pure insanity to ignore it.
The USDA's decision to ignore Dr. Huber is a clear indication that the USDA is operating under insane leadership. A bit of caution would do nothing worse than put off Monsanto's profits until later if their products prove to be safe and effective. The only ones who benefit from the mad rush to approve GM crops without thoroughly examining potential risks are the corporations that create them and anyone supported by them, or hoping to be supported by them.
That, of course, clarifies why the USDA ignores evidence and court orders, and throws caution to the wind as it rubberstamps virtually everything Agribusiness desires.
For more information and to sign a petition asking Secretary Vilsack,
to stop the planting of these seeds, see Food Democracy Now!
More than 10,000 carp found dead in Blue Springs Lake
Posted: 06/06/2012
BLUE SPRINGS, Mo. – Missouri conservationists are trying to solve a mystery in an area lake.
What started as a couple dozen dead carp turned into more than 10,000 in Blue Springs Lake.
Conservationists took water samples and couldn't figure out exactly what caused the deaths. Their samples have now gone onto a national lab for further analysis.
Between 500 and 1,000 carp have been killed everyday. Jake Allman, a biologist with the Missouri Conservation, started noticing carp with lesions under their scales the last few weeks.
"There's a little bacteria on the fish, but not enough to really have caused this," Allman said. "This feeding activity where they are brushing up against each other can actually spread whatever is making them sick."
If Allman had his way, this kill would only continue.
"Their spawning activity disrupts spawning of other fish. They root around in the shallows and uproot aquatic vegetation which is beneficial to native fish," Allman explained.
But it seems the carp are now starting to recover.
Lake officials are now keeping an eye on the E. coli levels in the water.
They had to close a swimming area during Memorial Day Weekend because of a threat of E. Coli from of all the dead fish.
Millions of Dead Fish, Alligators, Turtles Floating in Brazilian Waters!
100,000s: UNBELIEVABLE FISHKILL in Lousiana — ALL TYPES, EVEN MAMMALS
          Uploaded by OilFlorida on Sep 13, 2010
Update at: http://www.floridaoilspilllaw.com/
Dead whale and thousands of dead fish found near Venice shipping canal, WWL-TV New Orleans, September 13, 2010 at 10:41 p.m. EDT:
Thousands of fish and a dead whale on Monday were found…
Plaquemines Parish President Billy Nungesser… said there is no testing going on to determine if it's from the oil spill, although the northern Gulf of Mexico has suffered from a persistent dead zone of low oxygen, blamed on nutrient rich runoff from the Mississippi River.
Nungesser said this is different because usually the kills happen to only one or two species of fish.
AUDIO: Don Dubuc, WWL Radio.
Oil was present near fishkill:
http://www.floridaoilspilllaw.com/breaking-hundreds-of-thousands-of-dead-crab…
WGNO: "The area has been heavily impacted and oil is visible in some of these pictures."
http://www.youtube.com/watch?v=2n_9u7oaoM8
BREAKING NEWS! Birds Falling out of the Sky!..Rivers of Fish Dying! TIME TO WAKE UP SHEEPLE!
          Uploaded by ChemTrailSkys on Jan 2, 2011
This Video is a year old..The New Arkansas Video can be seen on my Friends Channel: http://www.youtube.com/watch?v=CZr7AM7EMXc
http://www.youtube.com/watch?v=gdKUcF5RPoA
Arkansas Birds fall from the Sky..Rivers of a certain Fish Dying …"Earthquakes, heat waves, floods, volcanoes, super typhoons, blizzards, landslides and droughts killed at least a quarter million people in 2010 – the deadliest year in more than a generation."
BEEBE, Ark.– Friday night, ringing in the New Year took on a whole different meaning for the citizens of Beebe. Around 11:30 p.m., enforcement officers with Arkansas Game and Fish Commission began getting reports of dead black birds falling from the sky in the city limits of Beebe.
Officers estimated that over 1,000 birds had fallen out of the sky over the city before midnight. Most of the birds were dead, but some were still alive when officers arrived. The blackbirds fell over a one-mile area in the city. AGFC wildlife officer Robby King responded to the reports and found hundreds of birds. "Shortly after I arrived there were still birds falling from the sky," King said. King collected about 65 dead birds that will be sent to the Arkansas Livestock and Poultry Commission lab and the National Wildlife Health Center lab in Madison, Wis.
The AGFC has flown over the area to gauge the scope of the event. There were no other birds found outside of the initial area.
AGFC ornithologist Karen Rowe said that strange events similar to this one have occurred a number of times across the globe. "Test results usually were inconclusive, but the birds showed physical trauma and that the flock could have been hit by lightning or high-altitude hail," Rowe said.
Another scenario may have been that New Year's Eve revelers shooting off fireworks in the area may have startled the birds from their roost. The birds may have died from stress.
Rowe said that it didn't appear as though the birds died of any poisoning or other event. "Since it only involved a flock of blackbirds and only involved them falling out of the sky it is unlikely they were poisoned, but a necropsy is the only way to determine if the birds died from trauma or toxin," she said. Testing will begin on Monday.
The City of Beebe has hired U.S. Environmental Services to begin the cleanup and dispose of the dead birds. The environmental firm will go door-to-door to pick up the birds that are still in yards and on roof tops.
http://www.youtube.com/watch?v=mDcVZ59m8II